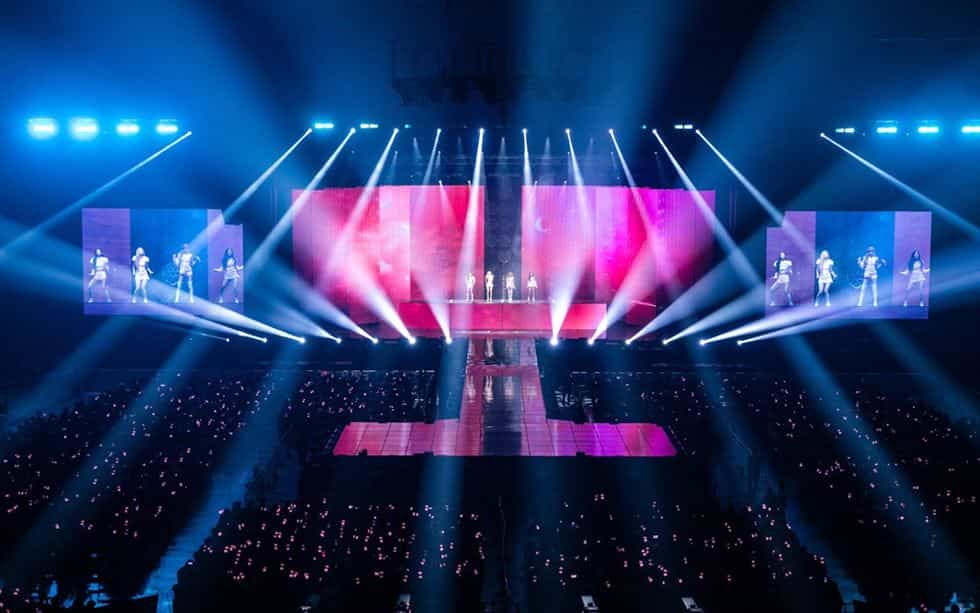 Seoul's Olympic Gymnastics Arena was the witness to BLACKPINK's first-ever solo concert, filled up with around 10,000 fans and rocking the entire arena with cheers when the girl group's recent title track "DDU-DU-DDU-DU" from their first EP "Square Up" was played.
It officially opened the "BLACKPINK 2018 Tour [In Your Area] Seoul x BC Card" on Saturday night, the first solo concert in Korea by the rising rookie girl group since its debut in August 2016. The girl group will hold another concert at the same venue Sunday.
"Blinks, did you wait a long time today? Let's have fun until the end," member Jennie said, referring to the group's fan club members.
Half of the show was filled with covers and performance by guest singers, as the 2-year-old group doesn't have many songs.
BLACKPINK performed its original songs such as (in order) "DDU-DU DDU-DU," "Forever Young," "Stay," "Whistle," "Really," "Playing with Fire," "BOOMBAYAH" and "As If It's Your Last.
After performing as a group, solo performances from each member follows.
Jisoo covered Zedd's "Clarity," while Lisa danced to Alan Walker's "Faded," and Rose covered "Let It Be" by The Beatles, "You & I" by Park Bom from the now-disbanded K-pop group 2NE1 and "Look At Only Me" by BIGBANG's Taeyang. Jennie also showcased the music video for her solo debut song "SOLO" for the first time.
The members then performed together again, covering American singer-songwriter Miguel's "Sure Thing" and "So Hot" by the now-disbanded K-pop girl group Wonder Girls. They also showed the stage performance for "Kiss and Make Up," the group's collaboration song with British singer-songwriter Dua Lipa.
"It seems like yesterday that we were in a Dua Lipa concert, but that was one year ago. If we have another opportunity, we would like to join the stage with Lipa. Thank you very much," the group said in a video message shown during the concert.
One of the special guest performer was BIGBANG's Seungri, performing the group's hit songs such as "Bang Bang Bang" and "Fantastic Baby," and his new solo track "1, 2, 3!" in medley.
"The Gymnastics Arena was where Big Bang had its first concert after its debut," Seungri said. "I'm sure Black Pink will stretch out to take over the entire world."
He then jokingly compared each BLACKPINK member to each one of his own bandmates.
"I think BLACKPINK share a lot of similarities with BIGBANG. Like G-Dragon, Jennie is always in Paris and keeps taking photos with fashion designers and posting them online. Lisa reminds me of Daesung, who has a bright aura and is full of energy, and Jisoo is like T.O.P, who is charismatic but unpredictable. When I see Rose, I think of Taeyang. She has strong vocals and has a lot of soul as an artist."
He then jokingly added, "BLACKPINK doesn't need a member like me."
Korean R&B artist Zion.T will join as a guest on the next day. All 20,000 tickets for the two concerts were quickly sold out.
After their concert in Seoul, the group will head on to stage eight concerts in seven cities until March 2019. It will perform on January 12-13 in Bangkok, on January 20 in Jakarta, on January 26 in Hong Kong, on February 2 in Manila, on February 15 in Singapore, on February 23 in Kuala Lumpur and on March 3 in Taipei. -HallyuLife

THIS SPACE INTENTIONALLY LEFT BLANK.