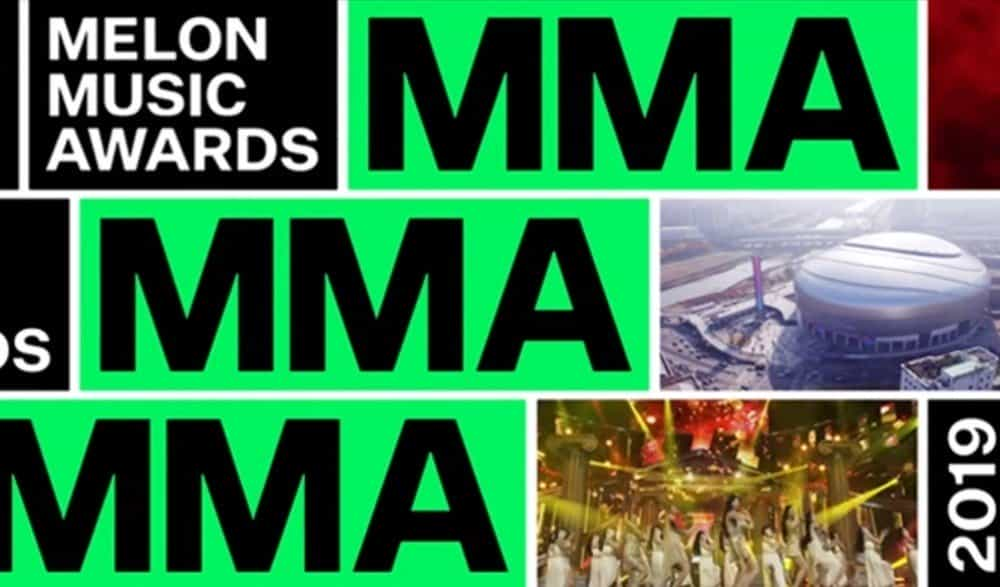 Watch the winners and latest performances from Melon Music Awards 2019 thru this livestream!
[youtube https://www.youtube.com/watch?v=KFbcOmDC89g]
The final lineup includes the following artists: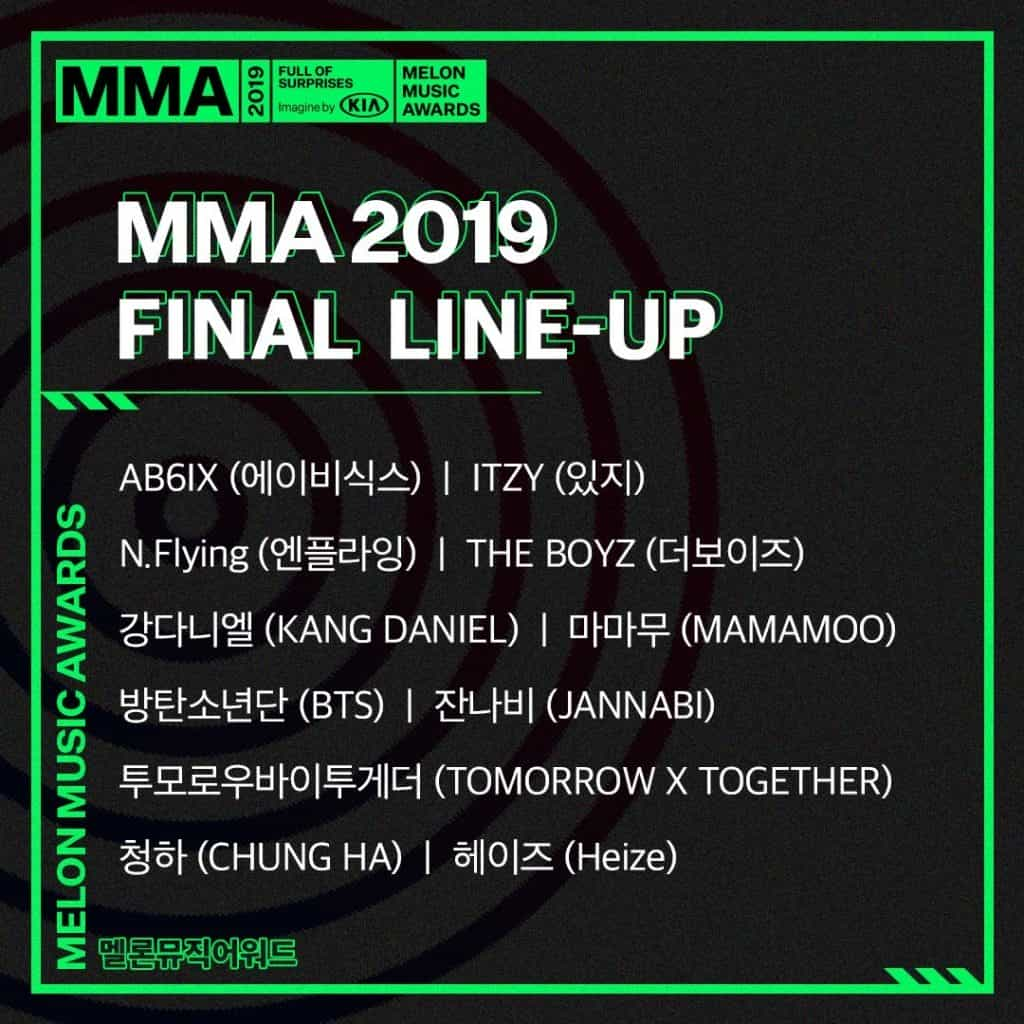 Hot stages from MAMAMOO, BTS, ITZY, THE BOYZ, N. Flying, ChungHa, Heize, Jannabi, Kang Daniel, AB6IX and TXT (TOMORROW X TOGETHER) are expected. The ceremonies tonight will be held November 30 at 19:00 KST, with the red carpet at 18:00 KST at Gocheok Sky Dome in Seoul.
---
[LIVE UPDATES]
Around 6 p.m. (KST) , the Melon Music Awards kicks off with the red carpet with lots of star-studded idols, hidden artists and actors that will be part of the live show.
Here are the artists that came on the red carpet (in order of appearance):
ITZY
Heize
Kim Young Dae
Byun Jung Ha
Jannabi
THE BOYZ
N.Flying
AB6IX
Lee Ju Yeon
Jin Ki Joo
Kim So Hyun
ChungHa
Kang Daniel
MAMAMOO
BTS
[MAIN SHOW]
Around 7p.m. (KST) , the Melon Music Awards Main Show kicks off.
The main show is hosted by Park Seo Jun.
Lee Hyun Woo is the first presenter for TOP 10.
TOP 10: BTS, Jannabi
THE BOY kicks off their 'Boy in Wonderland' performance with D.D.D.
Lee Jae Wook and Byun Jung Ha presents New Artist of the Year.
MALE NEW ARTIST OF THE YEAR : TOMORROW X TOGETHER
FEMALE NEW ARTIST OF THE YEAR : ITZY
Jang Sung Kyu presents Netizen's Favorite Artist.
NETIZENS FAVORITE ARTIST: BTS
Heize keeps us relaxed with 'Falling Leaves are Beautiful' followed by 'We Don't Talk Together' with Giriboy.
IMJMWDP raps his track 'I'm Sick' with YUNHWAY, Lil Tachi, Han Yo Han, and JUSTHIS.
BEST POP: Billie Eilish 'Bad Guy'
Jung Ga Ram and Kim So Hyun presents Best Dance Male and Best Dance Female.
Na Haeun danced to the nominees of Best Dance Male and Best Dance Female.
BEST DANCE MALE: BTS 'Boy with Luv'
BEST DANCE FEMALE: ChungHa 'Gotta Go'
N. Flying performs their catchy tracks 'Rooftop', 'Good Bam'.
Kim Do Wan and Han Ji Hye presents the next TOP 10 winner.
TOP 10: MAMAMOO, Heize
AB6IX dances to their intro performance blindfolded and performs their track 'Breath' and 'Blind for Love'.
Kwak Dong Yeon Kin Ki Joo presents BEST OST and Best Music Video
BEST OST: Gummy 'Remember Me' (Hotel Del Luna OST)
BEST MUSIC VIDEO: Kang Daniel 'What Are You Up To'
STAGE OF THE YEAR: Seventeen
TOMORROW X TOGETHER gives us a visual LED performances and sings their track 'New Rules' '9 and Three Quarters (Run Away)'
Choi Woo Shik presents Record of the Year.
RECORD OF THE YEAR (Daesang): BTS 'MAP OF THE SOUL:PERSONA'
Hwasa performs her solo track 'TWIT' with swag.
MAMAMOO gives us an awesome concert experience with 'Gogobebe'.
ITZY gives us glamorous performances of 'WANT IT?', 'DALLA DALLA' and 'ICY'.
Kim Young Dae and Hong Soo Hyun presents TOP 10.
TOP 10: ChungHa, M.C. The Max, Jang Beom June, BOL4, EXO and TAEYEON.
Jannabi serenades us with 'Good Good Night', 'For Lovers Who Hesitate'.
Kim Jae Uck presents the winner for KAKAO Hot Star.
KAKAO HOT STAR: BTS
Kim Young Chul and Oh Ah Yeon presents Hot Trend award.
HOT TREND: AB6IX
Kang Daniel gives us a stylish performance of 'What Are You Up To?' and 'Touchin'.
Yoo Su Bin and Hong Hyun Hee presents 1theK Performance Award.
1theK Performance: THE BOYZ 'D.D.D.'
Byeon Woo Seok and Lee Ju Yeon presents Best Rock and Best RnB/Soul.
BEST ROCK: N.Flying 'Rooftop'
BEST RNB/SOUL: Heize
BEST TROT: Hong Jin Yong
BEST INDIE: Melomance
BEST RAP/HIP-HOP: Epik High
BEST SONGWRITER: PDogg
ChungHa performs her sexy and sassy track 'Gotta Go'.
ChungHa with another ChungHa doppelganger dance off plus a 'Snapping' performance.
BTS gives us an amazing 'Map of the Soul' album concert experience.
BTS performs songs from the album like 'Boy with Luv', 'Mikrokosmos', 'Dionysus' and performed it for 22 minutes.
Lee Je Hoon presents KIA Song of the Year.
KIA SONG OF THE YEAR (Daesang): BTS 'Boy with Luv'
Lim Soo Jung presents the winner for Album of the Year.
ALBUM OF THE YEAR (Daesang): BTS 'Map of the Soul:Persona'
Park Seo Jun presents the winner for the Artist of the Year Award.
ARTIST OF THE YEAR: BTS
And that concludes this year's Melon Music Awards 2019.
Refresh this post for the latest updates! -HallyuLife.com

THIS SPACE INTENTIONALLY LEFT BLANK.